The Ultimate 420 Product Guide for Massachusetts (Updated 2022 Edition!)
420 may have started out in California, but it's quickly become a beloved holiday in Massachusetts. The Carniroll music and carnival experience is hosting The Roll Up, a music and community celebration headlined by Wiz Khalifa, Waka Flocka Flame, and others on April 15th-17th in Northampton.
Mas Grass Festival, April 23rd-24th, is another cannabis-forward music and community event happening in Greenfield. The event will host 25 bands, feature a Mystical Village, and a 21+ Glass and Grass Lounge.    
Whether you're going all out or planning a chill get together this year, our curated 420 gift guide has something for every kind of consumer. From artisanal infused chocolates to high-tech vapes, these products are sure to elevate the vibes at any 420 celebration.
If candy is your love language:
Koko Gemz Handmade Infused Chocolates
If you're searching for a delicious gluten-free cannabis treat on 420, try Koko Gemz Handmade Infused Chocolates. 4Front Ventures' master chocolatiers selected the highest quality ingredients for these rich, handcrafted Belgian chocolates. Its latest Ruby Red flavor is made from a special blend of ruby cacao beans and contains an elusive flavor with notes of fresh berries.
incredibles Mile High Mint chocolate bars
incredibles' Mile High Mint bar is a great treat to bring along if you're hiking on 420 and looking to reach peak elevation. The award-winning milk chocolate bar is made with pure THC distillate and contains 10mg of THC per square. The incredibles lineup also includes flavors like Snoozzzeberry, Strawberry Crunch, Peanut Butter Buddha, Monkey Bar and Black Cherry.  
Curaleaf's X Bites 5mg Gummies
Curaleaf's new XBites are a great way to get a chill vibe on at 5mg without getting the overwhelmed edible high from a 10 or 15mg edible. Coming in a wide variety of mellow flavors, orange was our favorite as a fast acting edible that had a buzz last over 2 to 3 hours, not too high, but a very relaxing chill.
Hi-Burst Cannabis-Infused Fruit Chews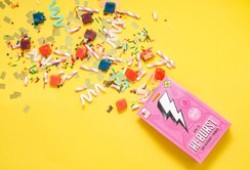 For lovers of sweet and sour candy, Hi-Burst infused fruit chews melt in your mouth and are designed to delight and offer a consistent high with each piece. This gluten-free treat is available in indica and sativa and blends and nostalgic flavors including Raspberry Lemonade, Blue Raspberry and Green Apple.
If you prefer to sip your cannabis: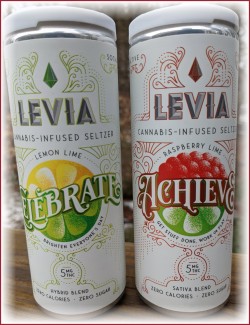 If you've been on the lookout for a healthier buzz, Levia's cannabis-infused seltzers deliver a crisp and refreshing taste with zero calories and sugar. The newest seasonal flavor "Mellow Mule" is a hybrid cannabis blend combining ginger with a hint of lime. Mellow Mule launches for a limited time in celebration of 420. 
Taking the Massachusetts cannabis-infused industry by storm, Good Feels is a fast acting cannabis-infused seltzer made with all natural ingredients. With over 100 dispensary lined up and waiting for inventory, get ready to have a "good feels" Summer on the Cape on the North Shore.  A crisp taste like blood organge or Grapefruit, this selzter gets you in the mood within 15 minutes of drinking it. Want your own beverage but want the THC?  Try their THC dring infuzer where you just add a few drops to anything you are drinking to get a new high while being completely tasteless and odorless.
For those in search of a truly premium experience:
Are you headed to a 420 party this year? Terp Stix™ is a canoe-free pre-roll that burns evenly and is designed for smokers with a high tolerance. These high-quality distillate-infused pre-rolls are guaranteed to impress experienced smokers at any gathering. 
Thinking of going for a hike or going on a trip with friends during the holiday? StiX pre-rolls were made to be compact, convenient and easy to light anywhere. The premium cannabis is expertly rolled to ensure a smooth delivery that burns perfectly. 
For vape connoisseurs on 420, Cliq by Select is a pocket-sized vape delivery system that uses gravity-fed pod technology to ensure you enjoy every drop of oil. Cliq's hardware is only compatible with Select's best-selling Elite oils and guarantees high potency and a broad spectrum of cannabinoids with the highest concentration of activated THC.
Crystal Clear Cartridges & Disposable Vape Pens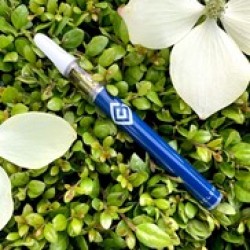 We like the founders of Crystal Clear because they are obsessed with quality control and creating a product that delivers a great high every time. These cartridges and disposable pens are available in proprietary blends that replicate a flower's terpene profile to create the same high without tars and resins.