Recreational Cannabis Sales to Start in New Jersey in Less Than 12 Hours!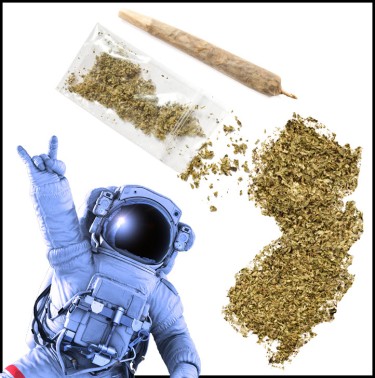 For the very first time, cannabis lovers and users will be able to purchase recreational cannabis on April 21st. This comes one year and a half after voters approved a referendum permitting them to go ahead with the sale of the plant to individuals who are 21 years of age or older. The state's plans to move forward on Wednesday afternoon were announced by Phil Murphy, the New Jersey Governor. For those who do not know, that is just a day after 4/20, which is a day many weed lovers have long celebrated as an unofficial holiday.
All this comes after New Jersey Governor Phil Murphy's last month's statement that legal cannabis sales would begin within weeks, though there were a lot of people who still didn't believe it. Since voters had already endorsed an adult-use marijuana marketplace in 2020, the target date kept moving off, with no one knowing when it would finally happen. In 2021, lawmakers still had to adopt new legislation to put the bill into effect. But the day is finally before us. From the 21st of April, anyone over the age of 21 will be able to purchase cannabis in the Garden State legally.
The Announcement
The New Jersey Governor proclaimed on Twitter that it was a historic step in their work to create a new marijuana industry.
In a press release, the executive director of the New Jersey Cannabis Regulatory Commission (CRC), Jeff Brown, said this time is an exciting one for New Jersey. He added that he is very proud of the work that has been done by the Commission in the last year to open the market. And how they have been deliberate and intentional in doing everything in their power to set the market on a solid foundation to start
Where To Find It
To begin with, seven medical cannabis businesses that are already operational will start selling for recreational purposes at 13 dispensaries across the state. As time goes on, an updated list will be provided on the commission's website. And it is now definitely party time for those able to participate on the opening day.
According to Benzinga, Acreage Holdings, Ascend Wellness, AYR Wellness, Curaleaf, Green Thumb, Columbia Care, TerrAscend, and Verano Holdings are alternative treatments centers that have been approved to sell.
In an interview with the New York Times, Ben Kovler, the chief executive of Green Thumb Industries, said in an interview that the end of the prohibition of weed is coming to New Jersey. And that they are prepared for a surge of demand.
Customers waiting in line at his dispensaries in Bloomfield and Paterson, which are roughly 20 miles from Midtown Manhattan, will be entertained by DJs, doughnut trucks, and a steel drum band. Local officials in neighboring communities are attempting to figure out how to deal with the increased visitors and traffic.
At the juncture, it will also be a supply and demand issue. Demand will be higher than usual, as it naturally is. But for each marijuana company to be permitted to sell, it had to prove to the commission that it had an adequate supply for recreational and medical customers to make sure the former did not buy up everything the latter was used to.
The sales of recreational cannabis in New Jersey are slated to start before in New York, where sales are not supposed to begin till the end of the year, according to the state officials.
Neighboring cities, like Pennsylvania, still have medical marijuana but not recreational. Some other cities, including Pittsburgh and Philadelphia, have passed statutes to make cannabis legal or at least lower its priority for law enforcement. A bill to legalize recreational marijuana in Delaware was rejected by the legislature last month.
Of the seven New Jersey facilities, three, which are known as alternative treatment centers, are located in the northern region of the state. Another three of them are located in the southern part of the state, while one is in the central area. To get approval, the centers came together and decided that the coming inflow of recreational customers would not disrupt access for patients. These facilities said they would prepare reserved parking spaces for patients and keep hours, particularly for patients only.
Demand Remains High
Medical cardholders should purchase and stock up now to escape the rush, according to Curaleaf, one of the state's largest cannabis companies, which has also previously expressed its displeasure with officials' slowness in launching a legal cannabis marketplace. According to an advertisement, The Garden State is about to get a lot greener, so if you use it for medical reasons, make sure you shop now to avoid the queues and obtain the drug you need.
According to the commission, this was also one of the reasons for a more gradual deployment as well as why the sales are not scheduled to start on 4/20, which is arguably the biggest weed smoking and shopping day of the year. CRC Chair, Diana Houenou, said they remain committed to social equity. And they have promised to build this market on the pillars of safety and social equity.
Finally, we want to see firms and a workforce that reflect the state's diversity, as well as local communities that benefit from this new and rising economy. She added.
Bottom Line
Having six ounces of cannabis or less, and using it on private property has been made legal in New Jersey for individuals aged 21 and above. That translates to you not being charged criminally for possessing weed. And now it has been fully legalized to buy or sell not only medical marijuana but also recreational marijuana in New Jersey to people aged 21 and above, as state officials have written regulations and awarded licenses to seven businesses (for now) that will make up the new legal cannabis market.
Residents of the allowed age can now walk into one of the registered recreational cannabis dispensaries and purchase cannabis starting on the 21st of April.
MORE ON NJ CANNABIS, READ MORE…