The Benzinga Cannabis Conference 2022
Benzinga Miami Cannabis Conference 2022 – 5 Things I Learned Over 48 Hours
The wonderful cannabis conference in Miami sponsored by Benzinga at the Fontainebleau is going to wrap up with a celebrity concert by Rick Ross and a guest appearance by Mike Tyson tonight. Mike was originally scheduled for a panel and interviews but hit some turbulence on the flight to Miami and will now be a game-time decision.
What is new in the cannabis capital cannabis markets?  The Benzinga shows are all about raising capital, getting public, and pressing the flesh with all the public and almost-public CEOs.  Some new tidbits I picked up on as an 8 year cannabis show wanderer and writer are the following, in no particular order, just random thoughts
I did not hear the word "marijuana" said at any point over 2 days of 12 hours of networking and listening to speakers.  The only word used was cannabis and as some sarcasm used, weed.  Imagine the day you can walk and network for 2 days at a cannabis conference and never hear the word "marijuana". Obviously, we are biased, but thrilled none-the-less.
Largest attendance of minorities and non-Caucasian people in marijuana conference history, which is also a good thing. While nowhere near the parity levels we want to see as an industry, as one insider told us, "At least it isn't 98% to 2%, more like 93% to 7% here, today."  What are the reasons?  Could be more social equity and economic empowerment companies coming online and at the funding stage, could also be the location being Miami, with a heavy Latino-culture to start with, either way, another win for Benzinga!
Most interesting line from day #1, question was, "What is the biggest problem in the marijuana industry?".  Answer, "Oklahoma. They issued unlimited licenses for $200 and now create 10x the amount their entire population could consumer, where do you think the rest is going?"  My guess was Texas, but all neighboring states must be thrilled, early Colorado all over again.
Rep. Mace is a true rock star and the future of the legalization movement for cannabis. Her talk was personal, insightful, funny, and her plan makes tons of sense.  The Democrats would never give a Republican a "win" on cannabis legalization, but let's hope they can reconcile the various bills out there and have a strong biparty push for legalization by the Fall.  Interesting idea floated to us by Mace which we will explore with her on a later date, but marijuana legalization is a Republican thing if we do it state by state. Republican ideology is rooted in a deep value in states' rights and not an overreaching Federal government.  As she said, "the government that governs closest to the people is better than a government that is afar".  I think it is famous quote about the British empire and US independence, but you get the point.  States' rights are a Republican thing, and cannabis determined by state is technically a strong Republican theory, even if it is cannabis legalization.
Comprehensive Federal cannabis legalization is years away.  Conversations with 3 lobbyist shows that they appear to have job safety for the next decade on this matter.  Do MSO's even want legalization as they make tons from each fiefdom (state) they operate in?  The established players would lose out with lower margins and even more declining prices in cannabis if interstate commerce was legal, so why would they want it.  Moats are good if you are the one benefiting from the moat.   One lobbyist shared that if the current cannabis bills dropped expungement and prison release, we would already have federal legalization. He said the Republicans are fine with everything in banking and commerce but as soon as expungement and prison release is brought up it is a "no-go" with all the conservatives fighting legalization.  I called bluff, but as sad as that is, it is 100% true.
Best idea going forward, Unfortunealty, was piece by piece, small step legalization. Do a veteran's access bill, do a medical marijuana a research bill, get everyone saying small "yeses" to cannabis and then you will get to a "yes" on full Federal legalization down the road when you ask.  Based on a poll of lobbyist, the Banking Act is the best bet for passage as some point, and the overall bill for full legalization, when finally done, mostly likely will look like the States' Act.
JJ McKay of the Fresh Toast got the unofficial best dressed award, when JJ hits a show, his is a magnet of good energy and fun.  He also moderated two great speaking sessions including one with Weedmaps.
A group of well-respected value investors on Wall Street spoke on a variety of different panels and all agreed that cannabis stocks are now a great buy. The joked that when they all like a sector as deep value quant guys, then you know you are hitting a bottom.  The value investor argument in cannabis is something like the worst is behind us, it can't get any worse, more states coming online, laws will be begging to change next 6 to 24 months, now is the time to buy low and just hold, not much downside left based on headlines and numbers. The only caveat I would through on that "all the bad news is baked in" model is that interstate commerce is going to decimate current business models of brick-and-mortar MSOs.  Once cannabis can be shipped freely and sites like Cannabis.net, Benzinga, and the Fresh Toast can start selling cannabis directly to consumers, Amazon is here.  I don't know how that story ends but it isn't good for brick-and-mortar retail, just like Amazon in ecommerce.
Tim Seymour from CNBC has cut the flowing locks and is not going short hair, looks great, keep it up!
Terry Booth still brings the Canadian fire during a presentation like he did with Aurora, his presentation was personable and funny for his new project, Audacious Brands.
Have a safe trip home!
LEGALIZATION COMING, READ MORE…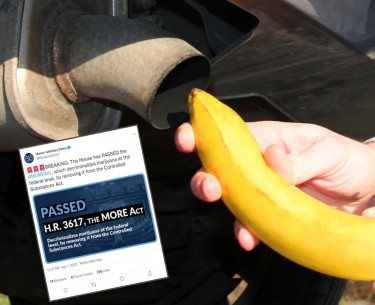 BANANA IN A TAILPIPE – THE HOUSE PASSES THE MORE ACT, AGAIN!