Would You Drive with a Weed-Themed License Plate?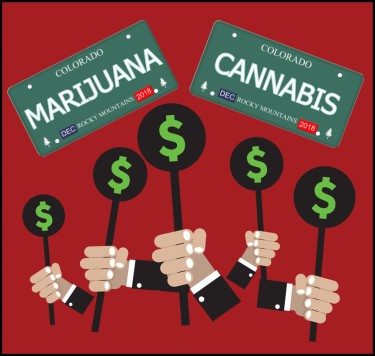 Stack your money together and get prepared to purchase a fitting cannabis-themed vanity license plate for your vehicle. Yes! The Colorado cannabis-themed license plate auction is set to take place any moment from now.
As you prepare to cruise proudly in your cannabis-branded vehicles, the time for concealing your cannabis preference is coming to an end. Imagine the look of envy from other cannabis enthusiasts when they catch a glimpse of your cannabis-customized license plates.
This year, the organizers are planning an unforgettable auction event to sell off the rights to 22 unique official cannabis-themed state license plates. Some of the catchy phrases used for the number plates include 420, THC, WEED, HASH, CBD, and seventeen different cannabis catchphrases.
The plans for this year's auction are already in motion, and the event itself is set to blow guests' minds. This round of bidding for this season's weed-themed plates wouldn't take time, as many buyers are ready to snatch up their favorite license plates as fast as possible.
A Yearly Affair
This is not the first year the government of Colorado has organized something like this. Last year, the state held an auction for cannabis-themed vanity license plates and generated over $40,000. All the raised funds in 2021 were donated to the Colorado Disability Funding Committee to pay for new and effective programs for the disabled residents of the state.
Governor Jared Polis and other Colorado officials are working tirelessly to ensure the state's cannabis program remains on top. Colorado is one of the top three cannabis-producing states in the United States. It has held this top position for more than ten years. Newer cannabis legal states aspire to attain the level of success that Colorado's cannabis program has attained.
This yearly auction for cannabis-themed vanity license plates is one of Colorado's bright, bold, and creative business ideas to bring more cannabis enthusiasts and investors into the state. Colorado has one of the most profitable cannabis reputations in the United States, and these sorts of innovative programs have helped the state maintain its "budding" reputation while helping out other groups in critical positions in the state at the same time.
The Auction
The auction for the customized license plates took place on April 20th. The officials in charge have made the program easier to access by taking it online. The budding lines were open in the morning and remained open until 4.20 pm.
As all auctions, bidders will get to place buds on their preferred license plates, and the winners will get to move around with their novelty license plates. Note that the winning bidders only have the right to use the configuration of numbers or letters on the plate. Additionally, it is not compulsory to immediately use the rights won. You can reserve the right to use them at a later date. You may also be able to sell it at a profit in the future with the permission of the Colorado Disability Funding Committee.
Another awesome thing about this auction is that it is not limited to only Colorado residents. If you stay in other parts of the country, not necessarily in neighboring states, you can still get an account and attend the auction. Winning bidders who reside in other states will have their novelty cannabis-themed license plates sent to them. However, the plate would not come with the security features accompanying a standard plate.
The twenty-two customized license plates have the following cannabis catchphrases: TERPENE, GOTHEMP VISINE, 710, BONGWTR, CBD, BLUNT, MRY JANE, HASH, TOKER, 420, GOT OIL, TRIM, THC, DABBING, RESIN, CANABIS, DABBING, THC, EDIBLE, CO2, NORML, and GOT OIL. You can start deliberating on which of these novelty license plates you would like to purchase.
The Colorado Disability Funding Committee (CDFC)
As mentioned earlier, proceeds from the novelty license plate auctions are donated to this fund to improve the quality of life and independence of Colorado residents living with disabilities. In the official press release, Governor Jared Polis wrote that the auction is an incredible chance to raise grants to fund non-profit organizations in the state. Dianne Primavera, Colorado's Lieutenant Governor, said that the government is happy to be a part of this movement to support the state's disability funding committee.
Christy Blakely, 2021 grant recipient and Director of Family Voices CO, said that Family Voices CO has dramatically benefited from the CDFC grant. The group now serves at least 12 children with hearing and vision disabilities. Blakely pointed out that CO provides intervention services to young kids experiencing deafness and blindness outside of school days.
Cannabis Use In Colorado?
Colorado has an active medical and adult-use cannabis program. Ever since its cannabis legislation was implemented, the state has had no problem with generating necessary revenue from cannabis sales made by licensed cannabis stores or dispensaries around the state. State officials provide reports on how the generated funds have been used.
In 2021, Colorado's recreational cannabis stores made over $2.1 billion in annual sales. This sale set a new record for the industry. In addition to this, the state also generated a new tax revenue record for the above sales worth about $423 million. Since the onset of the cannabis program in Colorado, at least $400 million of generated cannabis tax revenues has been diverted to develop and improve the state's public school system. The law enforcement agencies are also partially funded by a percentage of the cannabis tax revenues. Disadvantaged communities are also being improved with the fund.
Last Words
Colorado's cannabis-themed vanity license plate auction does not encourage indiscriminate use of cannabis products. At every event, cannabis enthusiasts in the state are advised to never indulge in cannabis before or while driving. The customized license plates do not give the winning bidders immunity against DUI arrests. Cannabis affects a person's cognitive abilities and the senses needed to drive safely.
DUIs in Colorado cost as much as $13,000. Other penalties include license loss and jail time.
MORE ON COLOARDO CANNABIS LICENSE PLATE AUCTION, READ THIS…